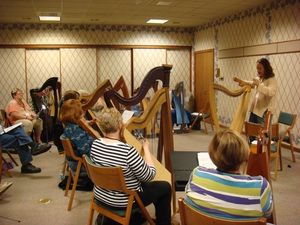 Because of my rigorous gigging and recording schedule I cannot book regular students. However, from time to time I have taken on students for an occasional lesson. I am qualified to teach violin, viola, Celtic harp and nyckelharpa. 

My experience is best used to help an intermediate or advanced musician develop and improve their playing as opposed to starting a complete novice on an instrument. I have helped numerous students take their musicianship " to the next level." While I'll give pointers on technique and may give some advice on how to practice effectively, I will not assign scales or exercises or "baby-sit" your development. My emphasis, rather, is on helping develop general musicianship skills and musicality, provide ideas for arranging traditional music and crafting original music and help guide a student toward fulfilling their own individual stylistic vision. 
I charge $65.00/hour, $40.00 for 1/2 hour ($90 for 1 hour and 1/2). Students must come to me in Alpine-Monroe Oregon for their lessons. 
If you are interested in studying with me, please call me at 415-642-1466 to discuss your needs and goals. Even if I am not the right teacher for you, I can often give referrals to prospective students for other teachers in the area.