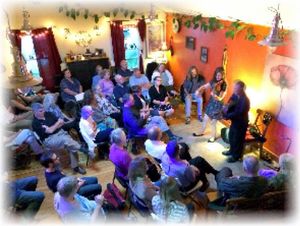 I discovered the joy of house concerts - both as a performer and a host -  about a decade ago and these events have become my most gratifying and pleasurable performance milieus. House concerts are a popular, viable and rewarding venue for top quality acoustic musicians of today. Hundreds of years ago, in the days of chamber music, people would gather in their drawing rooms or salons to listen to live musicians. It was a way to get together with friends and be introduced to artists and their work. This concept has now been revived and has grown in popularity across the country. It is a live concert before a group of music enthusiasts by an artist or small group in a private residence or equivalent setting. It is a unique opportunity to meet and experience the performer up close and personal without amplification or other barriers between the performer and listener. The average house concert has 25-50 guests, its a two set show with intermission for socializing, beverages and potluck or simple snacks.

A house concert is a unique and magical event. You can take a common social gathering to a whole new level. Since most people have never been to a private concert in someone's home, your guests feel they are part of something special. The concert provides a unique focus to the evening with time to socialize. The attendees are made aware there is a suggested modest donation amount to support the performer and to support the arts in your community. At little or no cost to you, you create an unforgettable evening by bringing everyone together to meet the artists and enjoy a show in an intimate setting. The personal touch and warmth of the experience are enchanting all who attend. House concerts have grown in popularity because it's a win/win situation for everybody.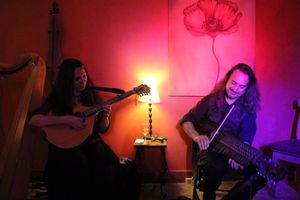 House concerts have recently become popular for professional touring musicians who can perform in an intimate setting. Other settings where we have done intimate concerts besides private homes  are recreation rooms, churches, library, classrooms, community center. Even a chiropractic office!
The opportunity to share the back story of the music and answer questions ends up a delightful, humorous and fun event for everyone.
Aryeh usually performs house concerts as a soloist, duo and on occasion with a larger group of world class musicians .
You can learn more about how to host house concerts here: https://lisalynne.com/house-concerts/