---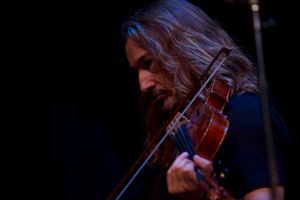 Aryeh's musical endeavors began at the age of three when he undertook classical training on the violin. His progress enabled him to study under various master violinists, including concert master of the Chicago Symphony, Harold Ayres. By the age of twelve Aryeh was already being accepted into various university level orchestras, including a Northridge College music program and accredited courses in the University of Southern California summer institutes held in Idyllwild, California. He participated both as a violinist and violist in a series of chamber music ensembles under the tutelage of internationally renown cellist, Bonnie Hampton, pianist Nathan Schwartz, teachers at the San Francisco Conservatory of Music, and the late violinist Ann Crowden of the Crowden School of music in Berkeley, CA. 

From an early age, Aryeh's musical development led him to explore various music styles such as rock, jazz and especially ethnic and international musical genres such as Celtic folk music. At the age of fifteen, Aryeh was introduced to the Celtic harp, an instrument which then became the focal point of his musical expression. Over the interceding years Aryeh taught himself to play a variety of (mostly string) instruments such as mandolin, guitar, cittern, viola and cello among many others. After touring in Sweden, he was introduced to the nyckelharpa (keyed fiddle) which, in addition to the harp and fiddle, subsequently became a central inspiration for his musical explorations.
In 1994, after leaving a doctoral program in philosophy, Aryeh began his life-long career as a recording and performance artist and pursues a career as a full time freelance independent musician. As of 2022 he has over 20 self-recorded/self- produced full length albums as a soloist or a primary contributor. He has collaborated - in composition, arrangement, performance and/or production - on countless others.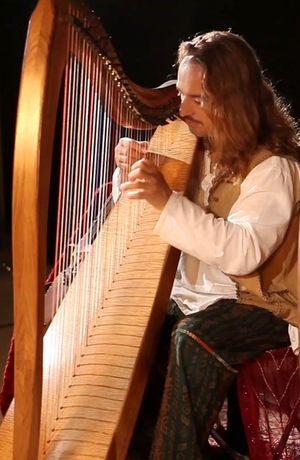 Between 1994-2014 he toured mainly as a solo artist at public engagements at numerous fairs and festivals (both on the Celtic harp and Swedish nyckelharpa).
From 1997-2003 he contributed electric violin and 12-string electric guitar, composer and arranger as a founding member of Azigza, an  avante-gaurde progressive rock - world fusion ensemble.
From 2007-present he teamed up with world renown Windham Hill/New Earth recording artist and harpist Lisa Lynne (cf. www.lisalynne.com) with whom he has both recorded and toured as a duo ensemble (cf. Shows - "Celtic harps, Rare Instruments and Wondrous Stories").
Between 2008-2009 Aryeh and Lisa briefly performed and toured with world renown Celtic harpist and multi-instrumentalist Chris Caswell.

From 2009-2010 Aryeh and Lisa recorded and performed with vocalist Molly Passutti.
From 2012-2015 Aryeh performed as a session musician for the Woman of Windham Hill Solstice shows with Barbara Higbie, Liz Story and Lisa Lynne.
From 2008-2016 Aryeh and Lisa toured stages both large and small throughout the US, Alaska, Hawaii and Ireland in the trio ensemble with Patrick Ball and Legends of the Celtic Harp.  
From 2018-present both Lisa and Aryeh joined up with Stuart Mason and John Weed to form the quartet, New World String Project with whom they have toured along the US West Coast.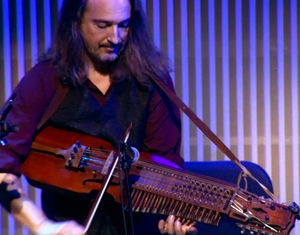 His notable engagements have included performing privately for Prince Charles and Camilla Bowles Parker; to a seated audience of 3400 in the outdoor amphitheater Dalhalla in Sweden where he shared the stage with the likes of Boys of the Lough and Dervish in 2001 to SF Jazz center with Woman of Windham Hill. He has been a featured presenter at any number of harp conferences such as Somerset (New Jersey), Harpcons in California and Montana, Harp Gatherings in Ohio, Dusty Strings Harp Symposiums in Seattle and Bay Area Festival of Harps in San Francisco. He has performed internationally in Sweden's oldest and largest music festival Musik Vid Siljan and impromptu performances at the Falun Musical Festival, O'Carolan Festival in Ireland and Nordic Harp Conferences in Denmark. From 2012-2018 Aryeh was a workshop presenter (harp and Swedish music) at Lark in the Morning Music Camp (www.larkcamp.org).

His music has been heard national and internationally, and he has been a featured artist on the PRI syndicated radio program Echoes (PRI). His music is distributed world-wide, licensed by international record label ARC International. 
In addition to his career as a Celtic harper, Aryeh has explored a wide range of musical styles utilizing all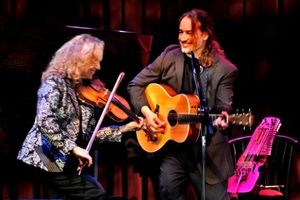 his multi-instrumental capabilities. He has collaborated with a panoply of musicians and music producers in his progressive rock and roll band Azigza, with Patrick Ball, Lisa Lynne, Jon Anderson of Yes fame, film and TV soundtrack composer Jame Dunlap, TV music producer Florian Tessloff, Medieval Sephardic Musician Lauren Pomerantz, modern Rai singer MC Rai, the psychedelic space-rock peformance artist Gilli Smythe,'Tribal Trance Druidic Dance music of Land of the Blind, the harp pop-jazz stylings of Verlene Shermer to the Nick peace Hip Hop/Rap albums produced by Million Dollar Dream as well as string arrangement/recordings for Rain Parade. He has recorded, arranged and performed on numerous soundtracks for TV and produced and provided sound engineering for many other independent projects. 
Since 2016, Aryeh resides on a ten acre farm in the Willamette Valley of Oregon. Aryeh is married to Lisa Lynne, the father of one son Abraham and servant to Nigel, an orange Maine Coon cat.