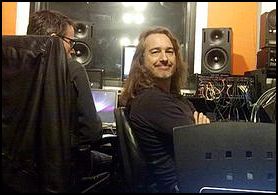 Nearly all of my solo recordings are entirely self-produced and recorded in my own studio and my skills and experience runs the entire gamut of all aspects of recording - tracking, editing, mixing and mastering as well as production, publication, distribution, marketing, song registration, securing copyrights, licensing, royalties and so forth.

Though mostly for my own projects, I do hire myself out for engineering, tracking, and production on outside projects. My studio includes a ProTools platform system, a wide array of high end mics and pre-amps and an extremely large isolated upstairs studio. Recording can also take place in a 12 foot domed ceilings of my living room which make for great results in tracking live sounds. I also work with other world class sound engineers such as Bernie Becker (Neil Diamond's personal sound engineer), Mark Pistel (Room Five Studios in S.F.) and others to help create the high quality professional level recordings.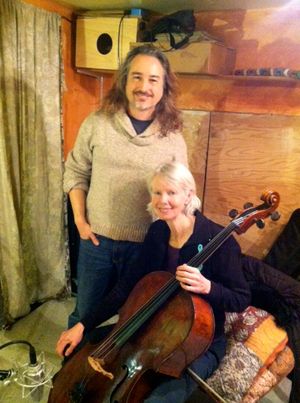 Three examples of my more intensive music production projects are: Lisa Lynne and Molly Pasutti for the Two Worlds One: Still the Moon which features lush orchestration and a full array of acoustic instrumentation which I scored, performed/recorded. I produced and recorded Irish mandolin virtuoso Marla Fibish with finger picking guitarist Bruce Victor on their first duet recording, Noctambule. I also tracked and edited Cabin 22 with New World String Project. In the photo you can see me recording Joan Jeanrenaud (original cellist for the Kronos Quartet) for a project with Barbara Higbie (2014: Scenes from Life). 
The producer's job in a recording is to oversee a recording and an artist's music, to develop and shape the overall sound and feel of a recording project and to see the inherent vision of a musical project to its full potential. Working "behind the scenes," a music producer is something like a director of a movie, coaching the musician(s) to get the best performances, perhaps helping to select the best tunes, recommending how much or how little "production" should go into a song or album, helping oversee the recording sessions, directing and assisting the engineering, editing, and mastering of a recording to find the right "sound." 

A producer may find the right instrument and the right performer for your music; may help score and arrange parts, may help you develop a piece from a few basic ideas into a fully worked out piece of music. The producer will help find for you the right mix, the right master, and help you package your music into a saleable product. If you are interested in utilizing my studio, engineer or production skills for your project, please contact me to discuss your project, your goals and your budget. 
Fees for engineering such as recording/tracking start at $60.00/hour. Additional charges vary depending on what additional skills are required or asked for and I am certainly open to work with you and your budget to engage in a mutually satisfying recording project.